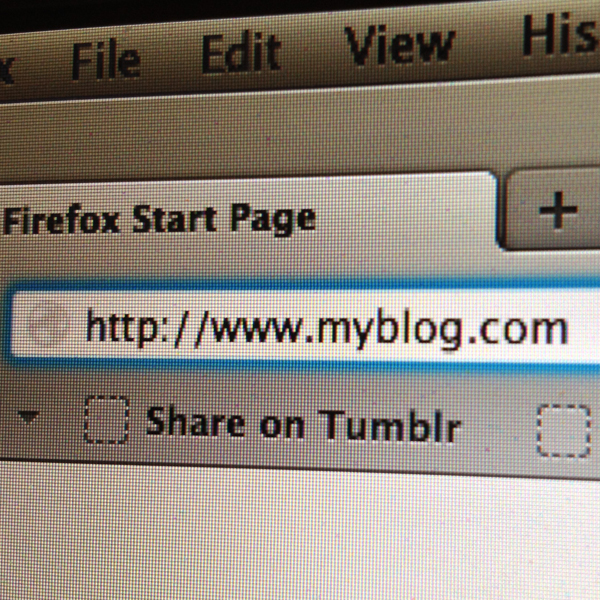 I recently received an email asking how a blogger decides to own their own domain name.
What does is mean to own your own domain name? Free blogging platforms like Blogger, Tumblr and WordPress append their own domain onto your blog URL. For example, if your blog is called My Blog, your Blogger URL would be myblog.blogspot.com, your Tumblr URL would be myblog.tumblr.com, and your WordPress URL would be myblog.wordpress.com. Owning your own domain name would mean your URL would be simply myblog.com.
I think a blogger should own their own domain name as soon as they realize they enjoy blogging and want to stick with it for a while. Here's why:
When we put URLs into our browsers, through force of habit, we usually enter the .com URL. We are very conditioned to expect every website to end in .com. So if you tell someone your blog name, or one of your readers tells their friend about you, chances are when they get to a computer they'll try going to myblog.com. If your blog isn't there, those potential readers may never find you.
A .com URL looks more professional to brands and media than a .blogspot.com, .tumblr.com, or .wordpress.com URL. You'll look like you know what you're doing and that you mean business.
Anyone can buy your domain name if you don't, so even if you have myblog.blogspot.com, someone can purchase myblog.com and start their own blog on it. Then there goes your brand, and maybe even readers (readers can get confused, and most people search for a .com domain before they search for a .blogspot, .wordpress, or .tumblr domain).
Even if you don't end up using it for your blog, you should still buy it so no one else takes it and uses it for their own website. In fact, you may want to look into buying the domain names that are similar to yours in order to protect your brand. Just take a look at the mess caused when The Coveted (now known as The Coveteur) purchased and started using thecoveted.com when there was already an established blog called The Coveted on the-coveted.com.
So, if you realize you're enjoying blogging and want to keep it up, there's a good chance you'll want to use your own .com domain, so it's best to just secure it. Buying domains is very cheap (usually about $10 for a year), so it's a worthwhile purchase.