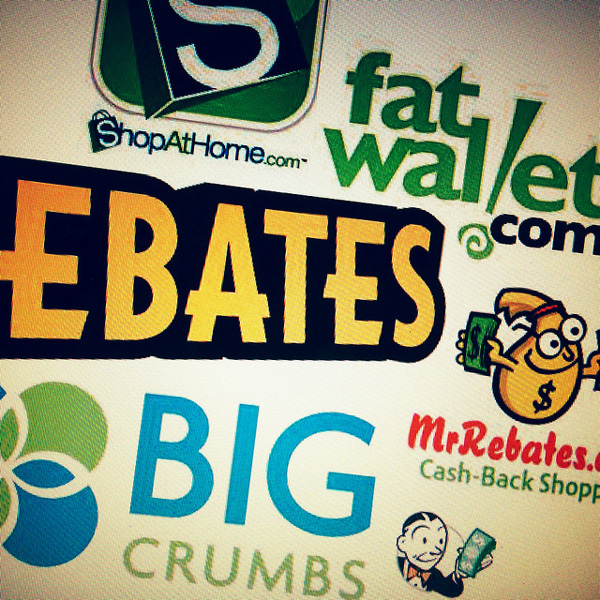 If you use commission earning affiliate links on your blog (the ones that pay you a commission of a sale made through an affiliate link), you may not want to promote Ebates, Mr. Rebates, Fat Wallet, or similar cash-back sites. Why? These sites can cancel out your affiliate links. The same applies to coupon code sites like RetailMeNot.
How your blog affiliate links work:
Using commission earning affiliate links on your blog is very similar to being a virtual sales associate. You get paid a small commission for any purchases made on items you like, wear, and recommend to your readers. A tracking cookie embedded in the affiliate link gives you credit for any purchases made by your readers, and you earn a commission of the sale. For a more thorough explanation, see my post about commission-earning affiliate links.
How cash-back sites work:
Cash-back sites are companies that have affiliate relationships with lots of brands and retailers. They are an affiliate of a retailer, just like you, and their affiliate links contain the same tracking cookies and work in the same way.
The big difference is they give users a cut of the commissions, as long as the user clicks through the cash-back affiliate link to make their purchase. Cash-back sites are making the same commission off a purchase you are, or sometimes a little more if they have negotiated special commission rates with the retailer. They then give the shopper a percentage of the commission and keep the rest for themselves. So, in a way, they are paying people to purchase through their affiliate links.
Why your blog affiliate links are canceled out by cash-back sites:
A major affiliate network employee offered me insights on the subject:
Cash back sites such as Ebates use affiliate links to promote merchants they work with if they are part of a merchant's affiliate program. A consumer can click on an affiliate link on your site, go to RetailerX, then decide to go to Ebates.com, then click on their RetailerX affiliate link and make a purchase. If this were to happen then Ebates will earn the commission, not you. It's essentially last click that matters most of the time. Cash back sites have a competitive advantage in that they usually split their commission 50/50 or 60/40 with the consumer.
The affiliate link that gets credit for a purchase is the very last one a reader used to go to the retailer site before making a purchase. If a reader clicked your affiliate link and made a purchase, great! You get the commission. If a reader clicked your affiliate link and decided to make a purchase, but then went to a cash-back site and clicked the their link before purchasing, the cash-back site gets the commission and you get nothing.
What can you do?
Do not promote cash-back sites on your blog. Promoting such websites encourages your readers to use the cash-back site's affiliate links, which will then cancel out your affiliate link, and can dramatically affect your blog's earning potential. This is a catch-22, because while you may want to share great cash-back sites with your readers to help them save a little money, you also don't want them all using the site's links, which will cancel out any commissions you might be able to earn off your blogging. Of course, many of your savvy readers may be using cash-back sites already and canceling out your affiliate links anyways, regardless of whether or not you promote the sites on your blog.
Use "pay-per-click" affiliate programs. If you want to promote cash-back programs on your blog, you might want to use affiliate programs that pay you by the click. These types of affiliate programs pay bloggers by the number of clicks their links get, but don't pay commissions for sales. You'll get paid when a reader clicks, no matter if they purchase or not, or if they use a cash-back site to make a purchase.
It should be noted that pay-per-click affiliate programs make money off commissions, while they pay you by the click. They may lower the amount of money you get paid per click if they don't make any commissions off your links, such as if your blog readers often go to cash-back sites before making their purchases.
New developments:
I recently received a promotional email from Ebates about their new browser toolbar which automatically creates an Ebates tracking cookie (essentially turning on the Ebates affiliate link) for users if they visit a retailer site. Great for the shopper who likes cash-back sites and doesn't want to have to remember to visit Ebates before making their online purchases. Bad for bloggers who earn an income off the commissions made through the affiliate links to products we share, review, and recommend. This toolbar would automatically cancel out your affiliate link by replacing it with the Ebates one. If many people take advantage of the Ebates toolbar and similar products, this can be bad news for bloggers using commission earning affiliate links.